This website is intended to possibly help others just by telling my story but does not constitute the answer of an ailment.  Always seek medical advice from your primary care physician.  
As an Amazon Associate I earn from qualifying purchases. There are also affiliate links.  I appreciate all of the support and comments on my website.  Cheers to healthy tummies! 

Bowel Obstruction Could Be Due To Draining Mucus and/or Gas
If you feel as though you have a bowel obstruction,
always contact your physician to rule out anything serious but in the meantime it could actually be excess mucus that is causing the blockage.  Yes, mucus!  
If you are experiencing the urge to pass bowels but just cannot, it could be due to mucus that has backed up into your body.
Some Of My Mucus in Stomach Symptoms
Well, you may have an allergy that you are unaware of.  
When you have an allergy, it causes your body to produce excess mucus. If you continue to allow the mucus to build up, the mucus will eventually back up into your body causing different issues as what happened to me.. 
Some may mistaken the build up of mucus for inflammatory bowel syndrome or  irritable bowel disease which is what I thought initially. 
Some of the issues that I've experienced but are not limited to what you may be experiencing are:
Inability to pass bowels (Which feels like bowel obstruction)
Pressure on bladder (the urge to urinate too often)
How To Get Rid Of The Mucus?
These are some things I've done. 
Figure out what you are allergic to, food and environmental.  Be proactive and take preventative measures. Avoid foods you are allergic to.  If its environmental, allergy medication is great or if you prefer a more natural option for your congestion, try opc-3.  It has helped tremendously me with my seasonal allergies.  These will help with your histamine, which in return will keep your mucus production under control.
If you already have the fullness in your stomach as I have experienced, I will reach for a natural inflammatory as well as digestive enzymes first.  These have helped tremendously with thinning and breaking down the mucus.
Drink Lots of Water-I've noticed when I consistently drink water, this helps with thinning the mucus as well.  
A Neti pot also helps with ridding mucus from your body especially if you have mucus that has accumulated in your sinuses ultimately causing blocked ears, sinus infections which then drains into your stomach, ugh!- not a great feeling.  
Managing Your Mucus May Help Your Bowel Obstruction---Click Below
Finding mucus relief may resolve your issues.
Still No Mucus Relief---Last Resort For Me 
When I have completed all of my natural remedies in attempt to rid my body of the mucus and still no avail, I will use a decongestant to help dry the mucus up.  Again, I use this as a last resort and works for me. 
If you still find that you are not getting any relief, never hesitate to contact your doctor.  You could actually be experiencing ibs symptoms, irritable bowel disease or inflammatory bowel syndrome. 
I hope this information has helped you.  Please comment and share if it has. xo, V❤️
About Me
I am a mom of two and wife who looks for natural options and who knows a thing or two about the neti pot as well as resolving my stomach pain.  I love mine and can't imagine life without it.  Sounds funny, huh? But so true!! Read more about me..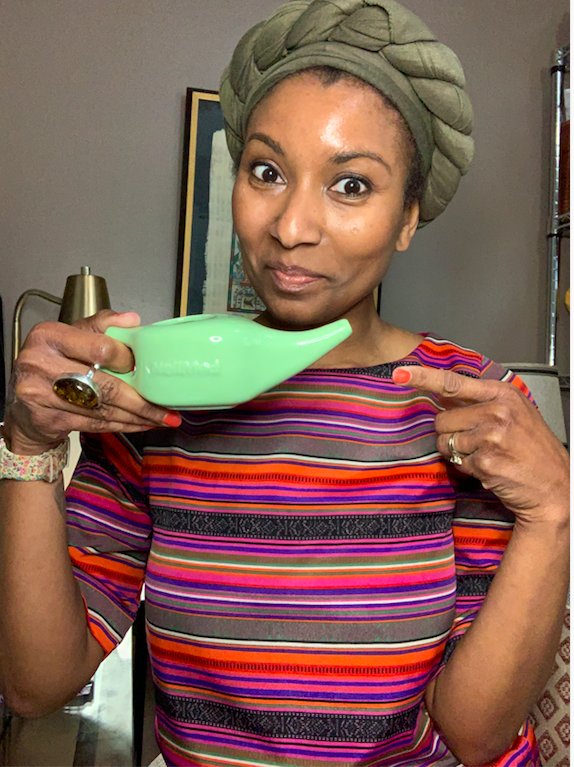 Follow Me on You Tube for great videos and tips!  I hope this website helps and that you find relief too!  Please share if it has.
---