This website is intended to possibly help others just by telling my story but does not constitute the answer of an ailment.  Always seek medical advice from your primary care physician.  
As an Amazon Associate I earn from qualifying purchases. There are also affiliate links.  I appreciate all of the support and comments on my website.  Cheers to healthy tummies! 

Hormonal Imbalance Linked to Developed Allergies
As women, hormonal imbalance begins to rear its ugly head, as we get older as well as with pregnancies.  
Okay, so you are probably thinking what do hormones have to do with stomach pain and allergies--well everything.  Let me share my story...
After Having Kids
After having our second little one, now 4 (actually 11..wow!) I realized that my body had changed, which was to be expected but it changed in a way that seemed odd to me. 
I began to have a lot of stomach pain and wasn't sure what it was from.  Of course, I would have occasional gas but this was severe stomach pain. 
I mentioned to my physician that I felt my body had gone through major changes after having our second little one but she simply blew it off and joked that I was blaming our little one for my pains.  Well, the nerve of her!  But I knew something was certainly off.
Severe Stomach Pain 
About 2 years, I battled with excruciating stomach pain. 
I simply could not figure out what was going on with me. 
I ceased taking birth control because I thought I had developed an allergy towards it. 
But the pain came back.  So then I thought at one point that it was because I was ovulating, or maybe my menstrual cycle and then I thought that I could possibly be pregnant, which sent my husband into frenzy!  I ended up not being pregnant.  But still could not figure out on my own what was the culprit.  I ended up going to several doctors, had multiples tests ran---all clear.  You're fine, says the doctor, well all of the doctors said this to me.
Culprit of My Stomach Pain 
One thing that came back positive was my allergy test. 
I was already dealing with severe seasonal allergies and decided to get allergy shots.  In order for me to have allergy shots administered, I had to go through the allergy testing. 
Surprisingly, the results showed that I was not only allergic to pollen but certain foods as well-Foods that had always been able to eat before with no issues such as almonds and cucumbers.   
My stomach pain was from the excess mucus draining and sitting in my stomach  due to my body going into attack mode because of the amount of allergens within my body, ugh!
How is that possible I thought?  How did I develop an allergy towards a food that I so loved to eat at one point?
Hormonal Imbalance Discovery
Well just recently, the answer was presented to me by a friend, when she shared a wonderful article with me about hormones and how when we are pregnant are progesterone and estrogen levels increase.
The issue is after we give birth-the progesterone levels decrease but estrogen still remains spiked and doesn't completely balance which ultimately leads to newly developed allergies, which is exactly what happened in my case and I am sure to other women as well.  
I never thought that having a hormonal imbalance would be linked to a newly developed food allergy.    
But it is.
I hope this information has helped you.  Please comment and share if it has. xo, V❤️
About Me
I am a mom of two and wife who looks for natural options and who knows a thing or two about the neti pot as well as resolving my stomach pain.  I love mine and can't imagine life without it.  Sounds funny, huh? But so true!! Read more about me..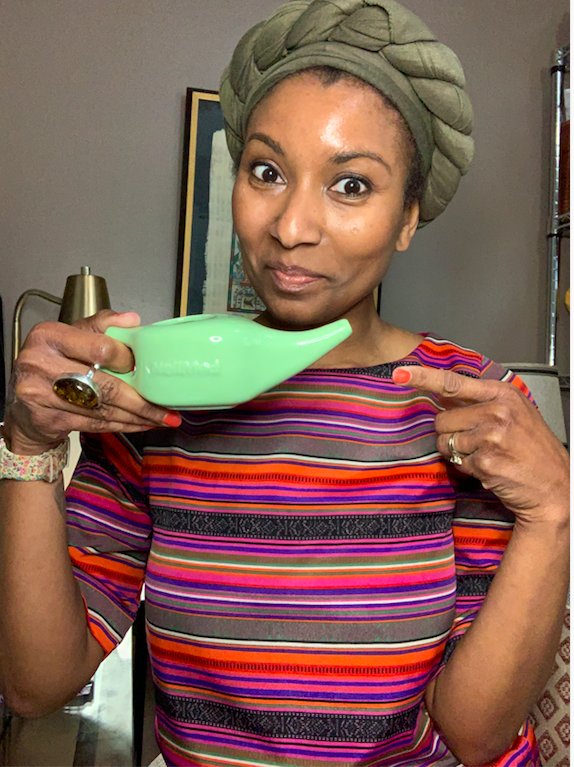 Follow Me on You Tube for great videos and tips!  I hope this website helps and that you find relief too!  Please share if it has.
---