This website is intended to possibly help others just by telling my story but does not constitute the answer of an ailment.  Always seek medical advice from your primary care physician.  
As an Amazon Associate I earn from qualifying purchases. There are also affiliate links.  I appreciate all of the support and comments on my website.  Cheers to healthy tummies! 

Dust Mite Allergy 
Who else has a dust mite allergy like me?  It's the worse right.  
At times I tend to not pay attention when I'm going through old books and old papers since they can be known to have dust on them.  It simply just doesn't dawn on me and then about an hour later, I find that my stomach hurts.
I recall what I had to eat and after not coming up with anything weird, it finally dawns on me that I went through old items without wearing anything over my mouth and nose...aha! It's the dust! 
Dust Mite Allergy Linked to Seafood Intolerance
So far as long as I could remember, I ate seafood.  I mean everything.  Who else loves shrimp?  Me! 
shrimp
lobster
clams
crawfish
oyster, everything! 
I remember one day my husband made me lobster tail for Mother's Day...omg! it was amazing but about an hour later I started to have really bad stomach pain.
I mean excruciating. Did I become allergic to seafood?  You're kidding me right...ugh! No! 
After seeing an allergist and conducting my own research for some years, I discovered that if someone is highly allergic to dust mites like me then there is a cross reactivity to certain types of seafood as well.
Aha, omg!  That made perfect sense.  I was sad but relieved that I knew what it was.  Now that I am doing allergy immunotherapy again, I feel that I will be able to enjoy seafood again which I'm sooooooo happy about.
Did I say I was happy...lol! 
Here's a great resource that talks more about the cross reactivity.  
Protecting Yourself from Dust Mites 
So this is going to look different for everyone since everyone has a different tolerance level but here are some things that I try to do:
When dusting and vacuuming, I cover my nose and eyes
Pay someone to do it, if you can't handle the dust and if it makes you sick
Be sure that your home is dusted on a regular basis to keep your dust down
Use a hypoallergenic pillow case which I have.
When dusting, wet a microfiber cloth to trap the dust which I do.
Use an air filter -- something that we do not have yet..need to
I take my antihistamines regular 
I hope these tips help.  If you have any others, please share below.  
I hope this information has helped you.  Please comment and share if it has. xo, V❤️
About Me
I am a mom of two and wife who looks for natural options and who knows a thing or two about the neti pot as well as resolving my stomach pain.  I love mine and can't imagine life without it.  Sounds funny, huh? But so true!! Read more about me..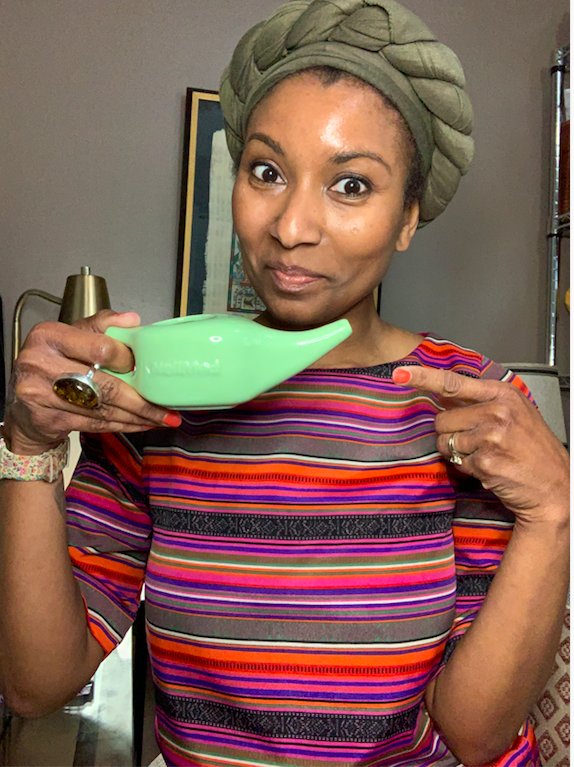 Follow Me on You Tube for great videos and tips!  I hope this website helps and that you find relief too!  Please share if it has.
---