This website is intended to possibly help others just by telling my story but does not constitute the answer of an ailment.  Always seek medical advice from your primary care physician.  
As an Amazon Associate I earn from qualifying purchases. There are also affiliate links.  I appreciate all of the support and comments on my website.  Cheers to healthy tummies! 

Food Allergy Rash
Food allergy rash can be remedied by avoiding and eliminating certain foods from your diet.  
If you find that you are battling a rash, seek medical advice from your primary care physician or dermatologist.
I always had issues with my skin to include:
dry, itchy patches
skin discoloration
dark patches
but did not realize it had to do with the food I was eating.  
How To Remedy
Honestly, the best way to remedy it is to simply avoid eating the foods that cause the reaction.
For me, I notice when I eat something that I am allergic to, I develop a rash on my face.  The location can vary with each individual.
The rash then develops into a dark spot from after a few days.  Then it takes the dark spot a little time to clear up.  
Determining Foods That Cause Reaction
If you cannot make it to allergist, to have a food allergy test conducted, start journaling your food along with the reaction you get.
Keep in mind that some reactions are delayed which means a rash may not appear until the next day.  Again, this varies with each individual.  
I have an allergy toward a host of foods to include chocolate. I know, Chocolate!  So sad.  I find when I even have a small amount, my face develops a food allergy rash.  
Natural Treatment and Skin Care
There are many natural treatments that will help clear up a rash, it's just a matter of finding which treatment works for you.  
I drink Ultimate Aloe everyday which helps with digestion as well as skin issues.  I also use the Ultimate Aloe Gel on my itchy skin rashes. 
I also use the skin care regiment by Skintelligience as well as the fading fluid and serum by Lumiere Di Vie.    
Again, its about finding what works best for you.  These products tend to work well for me.  
I hope this information has helped you.  Please comment and share if it has. xo, V❤️
About Me
I am a mom of two and wife who looks for natural options and who knows a thing or two about the neti pot as well as resolving my stomach pain.  I love mine and can't imagine life without it.  Sounds funny, huh? But so true!! Read more about me..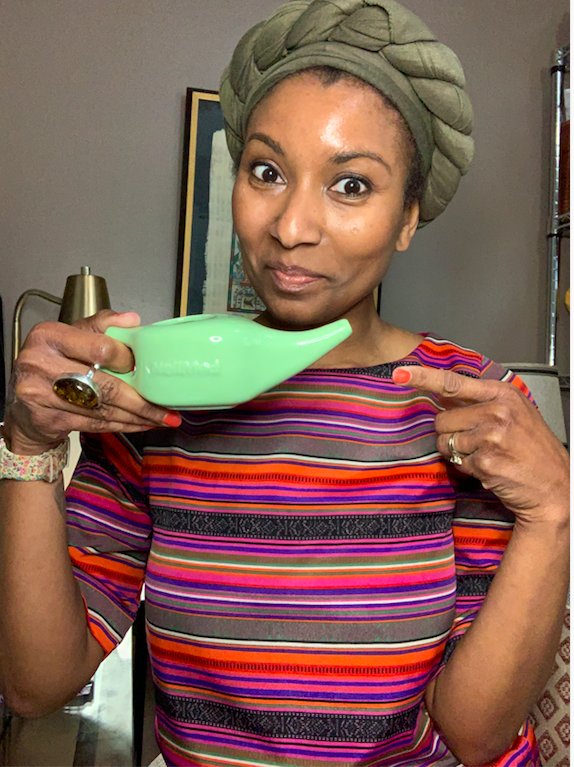 Follow Me on You Tube for great videos and tips!  I hope this website helps and that you find relief too!  Please share if it has.
---