This website is intended to possibly help others just by telling my story but does not constitute the answer of an ailment.  Always seek medical advice from your primary care physician.  
As an Amazon Associate I earn from qualifying purchases. There are also affiliate links.  I appreciate all of the support and comments on my website.  Cheers to healthy tummies! 

Allergy Season is the worse!
Allergy season can be so cruel to so many including me.  And it seems like every year it gets worse am I right.  Ugh! 
And depending where you live, some areas can be much worse than others.  
I'll share a few websites and some other info that may be helpful during this season.  
When Does Allergy Season begin?
So I think many, especially those who really do not suffer from allergies or maybe not as badly, do not realize that allergy season actually starts Feb-March time frame and continues through fall. 
Allergy sufferers are aware of this because our bodies begin to react to everything getting ready to bloom.  I start revving up my allergy medication around the beginning March to prepare and will also have to double, triple up (the advise of my allergist) to keep my body in check.  
What's the Pollen Forecast? 
So where do you go to find the daily allergy season forecast?  So Weatherbug is a good one.  I receive daily texts of the pollen forecast which is very helpful.  There's an app that you can download that will allow you to do this.  
Some other useful websites are:
How Does Allergy Season affect your body?
So this honestly depends on the individual.  You may find that every individual experience something different with give and take, here and there.
The allergy season affects me in many ways to include all of the common symptoms:
sneezing
watery, itchy eyes
sinus headache
post nasal drip
congestion
clogged ear(s)
etc.
And also stomach pain, which is not a common symptom for everyone.  My stomach pain became one of my symptoms many years ago which was very frustrating since I could not pinpoint what it stemmed from.  
None of the specialists that I visited could not pinpoint either until I visited an allergist...aha!  
Also, once I knew what I was allergic to, I could pinpoint which fruits and vegetables I should stay away from due to Pollen Food Allergy Syndrome.  Life changing.  
Which allergens during Allergy Season?
Absolutely everything blooms during the season.  And of course depending on which season we're in.
In the Spring, you'll find these allergens:
Trees to include Birch, Maple, Elm, Cedar, etc. 
Read more on Spring allergies on Web MD.
In Summer,
Read more on Summer allergies on Web MD.
In Fall
Read more on Fall allergies on Web MD.
I hope this info helps.  Wishing you a breathe easy season.  
I hope this information has helped you.  Please comment and share if it has. xo, V❤️
About Me
I am a mom of two and wife who looks for natural options and who knows a thing or two about the neti pot as well as resolving my stomach pain.  I love mine and can't imagine life without it.  Sounds funny, huh? But so true!! Read more about me..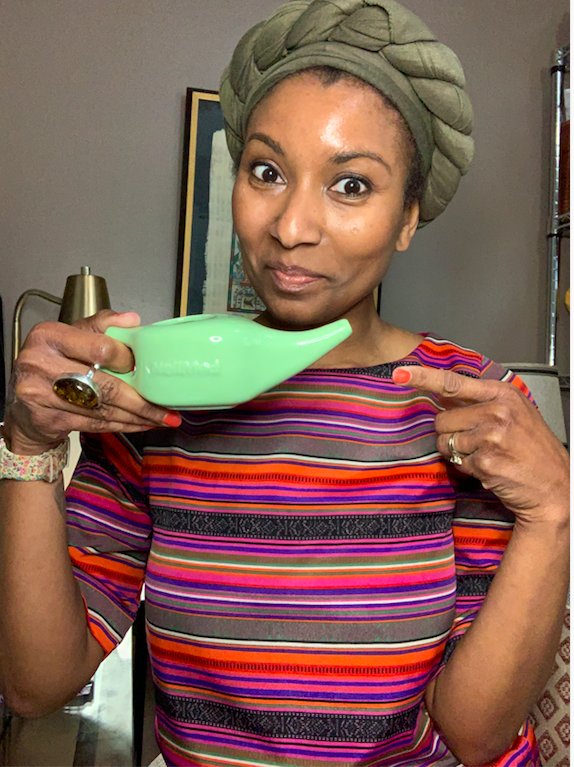 Follow Me on You Tube for great videos and tips!  I hope this website helps and that you find relief too!  Please share if it has.
---